If you own a business, regardless of the size, web hosting is no longer an option; it's a necessity. Online searching is the norm nowadays, so your business needs a reliable and accessible website for potential clients to find. Even a basic page that details your business location, contact information, and hours of operation is invaluable.
Gone are the days when businesses were listed on yellow pages; if you can't be found in a search engine, your business doesn't exist. Businesses need a sharable website to build an online presence. Without a website, your business lacks discoverability and will earn little money. Granted, web hosting isn't exclusively a business investment; if you're aiming to host a personal site, blog, or project, hosting services are also highly valuable. Regardless of your website target, the services listed here have you covered.
Web hosting services offer varying amounts of monthly data transfers, storage, email, and other features. Even how you pay (month-to-month payments vs. annual payments) can be radically different, too, so taking the time to plot exactly what your company needs for online success is essential. Many of these companies also offer reseller hosting services, which let you go into business for yourself, offering hosting to your own customers without requiring you to spin up your own servers.
Web hosting services work by maintaining stable and secure storage spaces. While web hosts provide more than just simple data storage, it's a core part of their functionality. Hosts store data on hardware called web servers, which allows for easy maintenance and access by online users.
There are many different types of hosting services, and the one that is best for your business depends on your short- and long-term goals. You want a hosting service that will handle your current needs and will be able to grow along with your business.
Many web hosts offer limited features in their starter packages and then expand the offerings (sometimes tremendously) for higher-tier plans. Read the small print to make sure the plan you are selecting offers what you need. If you need a site builder application to design your website, make sure that the low-cost web host you are picking actually comes with a site builder. Many of them require you to pay for the builder as a separate add-on. Website builders usually don't cost a lot of money, but if you can find a web host that includes one for free, that's money in your pocket. And, if it's integrated with your hosting service, you're more likely to have a smooth, supported experience. Now, there is one hosting service for your website that we recommend over all the others, and that is the Cloudways storing device.
Cloudways storing service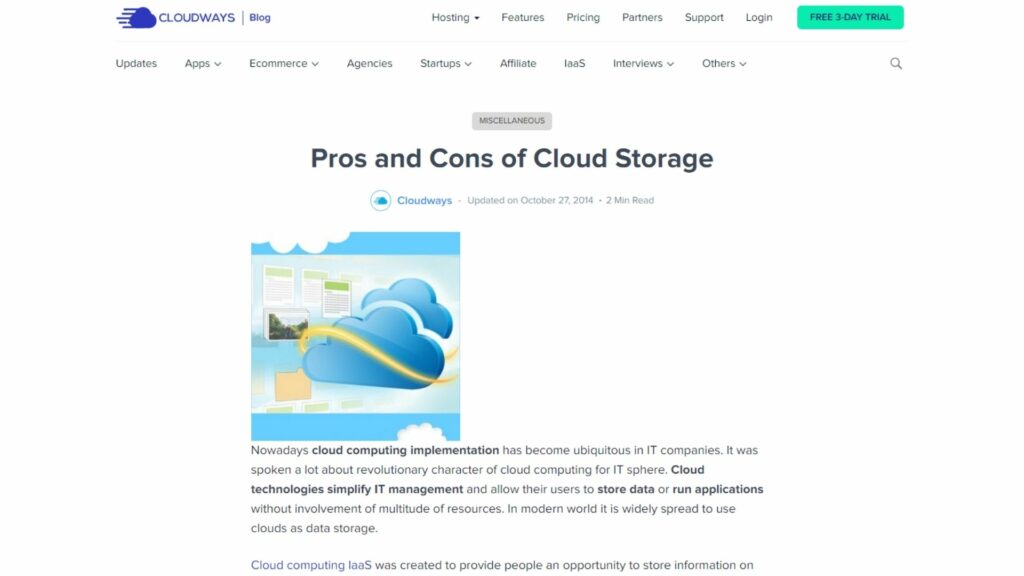 Focus on your business and avoid all the web hosting hassles. Cloudways managed hosting guarantees unmatched performance, reliability and choice with 24/7 support that acts as your extended team, making Cloudways an ultimate choice for growing agencies and eCommerce businesses.
The Cloudways hosting platform takes away the complexities of setting up your website and allows you to go live in minutes.
Cloudways leverages the resources of several clustered servers to balance your website load; it doesn't dabble at all in the traditional shared, VPS, and dedicated hosting plans. Instead, the company offers several pay-as-you-go, hourly cloud hosting packages that only charge you for the amount of time you've used.
A lot of people have some information on their computers that they don't constantly use but keep in case they need it. Cloud storage allows the deallocation of a computer's hard disk memory from files that are not required for everyday work. These files can be accessed from the cloud if you need them but at the same time they do not clutter up hard disk space.
However, it is not recommended to store on clouds data that is crucial for business continuity. Modern technologies are able to encrypt information in a secure way but an internet connection is not enough reliable. In case your internet connection is down, you cannot access the important data anymore and the entire enterprise stops working.
The Cloudways hosting platform also offers help and guidance when using the Cloudways Platform, 24/7. Their team of highly trained experts is always available.
All servers launched on Cloudways have dedicated resources. Contrary to the limitations of shared hosting, their dedicated environment allows you to maximize server and app performance.